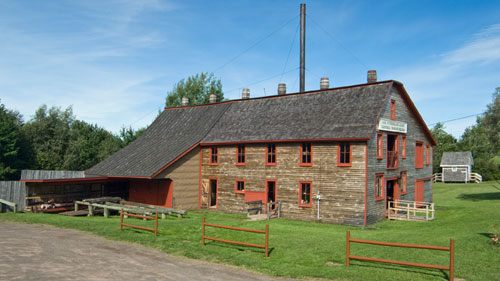 Reduce, reuse & recycle - 1894 style
From the moment you park your car you have arrived at a unique slice of Nova Scotian heritage. The parking lot was the area where farmers piled their logs all winter long, to be sawn in the spring. The slab wood and saw dust from sawing logs was used to feed the boiler ...almost nothing went to waste.
Inside you will see hundreds of examples of what the mill produced over its 60+ years: every kind of lumber, lathe, flooring, shingles, balusters, spindles, finials, newel posts, rosettes, fancy trim known as 'gingerbread', wagons, sleds, windows, doors, sashes, moldings, school desks, toys & yes, bathtubs!
You'll be able to see how the raw power of the steam engines was transferred to various machines throughout the mill via an ingenious system of belts, shafts and pulleys. Over a dozen of the woodworking machines were made right on site, including a bandsaw made from an old cream separator. Most of the machinery was made right here in Nova Scotia, including the left-handed sawmill, the boiler and the Robb-Armstrong Steam Engine.